Professor Yemi Osinbajo, the vice president of the Federal Republic of Nigeria, offered his thoughts on the western world's planned shift away from fossil fuels and the impact it will have on Africa in an article published in Foreign Affairs.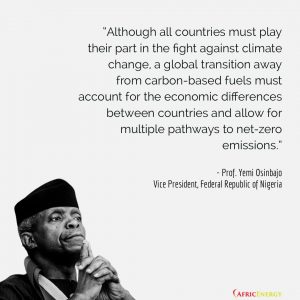 In an article titled "The Divestment Delusion; Why Banning Fossil Fuel Investments Would Crush Africa," he stated that the divestment must be "inclusive, equitable, and just—which means preserving the right to sustainable development and poverty eradication, as enshrined in global treaties such as the 2015 Paris climate accord."
Apart from South Africa, one billion people in Sub-Saharan Africa have 81 gigawatts of power generation capacity and generate less than 1% of world carbon emissions. In Nigeria, the average person emits only 0.6 metric tons of carbon per year, a fraction of the global average of 4.6 tons per capita and far less than Europe's 6.5 tons per capita and the US' 15.5 tons per capita.
READ FULL TEXT ON FOREIGNAFFAIRS.COM