In collaboration with the African Energy Commission (AFREC), the African Petroleum Producers' Organisation (APPO) and African Refiners and Distributors Association (ARDA), the Organisation of Petroleum Exporting Countries (OPEC) hosted its first Energy Dialogue with Africa (OPEC-Africa) on Tuesday, 2nd June 2021.
Speakers at the event were the Secretary-General of OPEC, Mohammad Sanusi Barkindo, the Executive Director of AFREC, Rashid Ali Abdallah, the Secretary-General of APPO, Dr Omar Farouk Ibrahim and the Executive Secretary of ARDA, Anibor Kragha. Also in attendance were delegates from some OPEC Member Countries and non-OPEC oil-producing countries that are participating in the Declaration of Cooperation.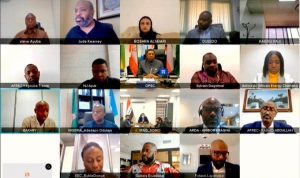 The objective of the dialogue is to bring together top energy policymakers from various energy institutions to provide support and policy guidance to the technical meetings of the energy dialogue, aimed at enhancing cooperation and collaboration in energy data acquisition and joint studies, to optimize their limited resources in pursuit of wider objectives. In particular, the mutual goals of the organizations are based extensively on energy access and energy poverty alleviation in Africa.
The OPEC-Africa Energy Dialogue will provide critical input for identifying enablers for investment in the African energy sector, accessibility and affordability of energy to eradicate energy poverty, and discuss the future of oil and energy in the post-COVID-19 recovery and energy transition for Africa.
Key points highlighted during the first High-Level OPEC-Africa Energy Dialogue are:
Energy poverty remains a major challenge that requires expanded cooperation to achieve solutions;
All sources of energy are needed to meet anticipated energy demand as well as expand energy access;
Expanded cross-border energy trade and connections could strengthen energy access and reliability;
A sustainable finance plan for African energy sector is very important;
Enhanced continental cooperation on data collection and sharing is needed to support energy planning and stability;
A harmonized African energy transition plan is needed to prepare for the COP26 meetings in Glasgow, scheduled for 1-12 November 2021;
There is a need for additional dialogue and stronger advocacy to support the strategic energy interests of Africa.
The High-Level meeting was followed by the 1st Technical Meeting of the OPEC-Africa Energy Dialogue, which also took place by videoconference.
To read excerpts from the various speakers' remarks during the meeting, kindly CLICK HERE