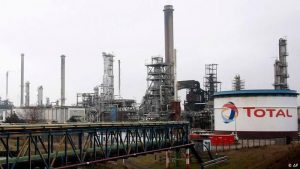 Iraq has signed a preliminary agreement with French oil and gas group, Total, that includes four (4) projects to develop oil fields, produce gas, build large energy infrastructure and generate solar energy.
The signing ceremony was yesterday, Monday 29th March 2021, in the capital city, Baghdad. In attendance were representatives from the oil ministry and Total's Chief Executive Officer, Patrick Pouyanne.
Although the size of the deal was not disclosed in the oil ministry's statement released after the signing, on Saturday 27th March 2021, the oil minister of Iraq, Ihsan Abdul-Jabbar, said that Total will invest more than $7 billion into the country. All of the projects are located in the oil-rich south.
He told Ashraq News TV, "The deal between the Iraqi national [energy] companies and Total will be one of the important pillars in developing the national economy."
Per the agreement, which is subject to the final approval of the cabinet, Total will build infrastructure to gather and process associated gas, a by-product of oil production from five (5) oil fields namely: Artawi, West Qurna 2, Majnoon, Toba and Luhais.
The General Director of the state-run South Gas Company, Hamza Abdul-Baqi, said the company will also upgrade the Artawi field to increase its capacity to 200,000 barrels of oil per day.
The Deputy oil Minister, Hamid Younis, said the gas-related infrastructure being built will help to capture and process an extra 300 million standard cubic feet per day.
Total is to carry out a project to inject seawater into reservoirs to improve production capacity from its well. It will also work with the Ministry of Electricity to develop a solar energy project of 1,000 megawatts.
Iraq is OPEC's second-biggest oil producer and it currently produces 1.5 billion standard cubic feet of gas per day and plans to increase it to 4 billion standard cubic feet by 2025. Iraq hopes to attract investment into its vast natural resources to enable it to generate its electricity and stop relying on Iran.