Several lenders are reportedly walking away from financing the Total SE-sponsored  EACOP project, barely three weeks after the official launch.
Last week, it was reported in French Newspaper, Les Echos, that three French banks – BNP Paribas, Société Générale and Crédit Agricole, have opted not to finance the EACOP.
Milan-based UniCredit, which is also one of the targeted lenders for the projects, said that the company's policies prevent it from financing projects that may cause harm to the environment.
In March, Credit Suisse's Head of External Communications, Yannick Orto, told the East African that "Credit Suisse is not considering participating in the Eacop project."
The Global Head of Media Relations at the Société Générale, Jean-Baptiste Froville, responding to a mail from East African, said: "Our position is 'no comment' as mentioned in the article from Les Echos."
Also, in a response to a mail from East African, the Media Relations Associate at Morgan Stanley, Mercedes Goldman, said: "Thanks for your e-mail. We decline to comment."
In another twist to the news of lenders pulling out, the Chief Executive of Stanbic (Ugandan affiliate of Standard Bank), Anne Juuko, said: "People are just getting ahead of themselves with talk of which bank is in or has pulled out."
She said that independent studies are ongoing and until they are concluded, the project will not move to the actual phase of the financing.
In response to an open letter to the financial advisors and lenders of the project by activitsts on March 1st, Standard Bank Group commented: "We support responsible investment and rigorously follow international standards and best practice on assessing and managing our environmental, social and governance risks. We are acutely aware of the environmental and social impacts and we continue to undertake our internal due diligence process with support of an independent consultant who will issue a comprehensive environmental and social report. The findings from this report will inform our approach and level of involvement in the project."
The project's construction phase is scheduled for later this year and this move by lenders will cause unrest for local and international companies who are planning to bid for tenders and contracts.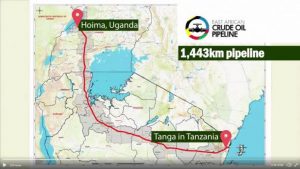 The project was launched on April 11th during the oil summit between the Presidents of Uganda and Tanzania Yoweri Museveni and Samia Suluhu Hassan respectively, and the Total Chairman and Chief Executive Officer, Patrick Pouyanne. The shareholders are Total with 62%, Uganda and Tanzania with 15% each, held through their national oil companies, and China National Offshore Oil Corporation with 8%.