Musa Timothy Kabba and Mrs Ann Marie Harding have been appointed Minister and Deputy Minister of Mines and Mineral Resources of the Republic of Sierra Leone, respectively.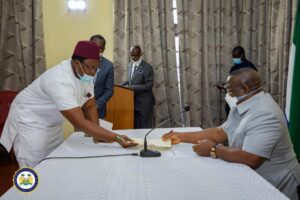 The young vibrant technocrat, Musa Timothy Kabba, who was formerly the Director-General of the Petroleum Directorate Sierra Leone replaces Honourable Rado Yokie, the erstwhile Minister. Before her appointment, Mrs Ann was the deputy director at the Financial Intelligence Unit.
The appointment was announced on Monday 27th July 2020 by President, Brigadier (Retired) Julius Maada Bio. In the press release signed by the Secretary to the President, Julius D. Sandy, notifying of the new appointments, a new Director of the Financial Intelligence Unit, David Nyamakoro Borbor, was also appointed.
On Monday 3rd August 2020, the new minister and deputy minister took the Oath of Office before the President per the laws governing the country.
The President congratulated the new appointees and expressed his hope that they will contribute positively to the development of the Ministry and help the government to achieve its set out goal in the sector and the country at large. He enjoined the appointees to ensure effective collaboration in achieving their required and targeted goals.
Speaking after the swearing-in, the Minister spoke on behalf of the appointees and thanked the president for his trust in them. He said it is a privilege to serve the nation and will work hand-in-hand with the required members of staff to ensure the New Direction Manifesto that aims to enhance natural resources for the development of the country is being followed.
He said, "I promise solemnly that I shall remain faithful to Your Excellency and Government and to the people of this country in delegating my function with the sincerest of mind, with the sound support of every stakeholder of this country to make sure that we realise the New Direction aspiration – making the lives of the people better."