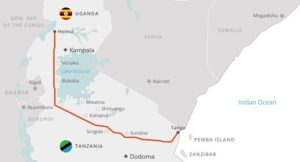 The agreements that need to be completed to fast-track the East African Crude Oil Pipeline (EACOP) is reportedly in an advanced stage of completion.
The four key agreements are the Host Government Agreement (HGA), Shareholders Agreement (SHA), Ports Agreement (PA) and Land Lease Agreement (LLA).
The completion and signing of these agreements will allow for a Financial Investment Decision (FID) to be taken and allow for the commencement of the construction phase of the project.
Because of this, Tanzania is said to have set aside 1 billion from its budget for 2020/2021. After the FID is taken, the design of the pipeline, procurement and construction will start and go on for about 3 years.
The Minister of Energy Tanzania, Dr Medard Kalemani reiterated that construction may commence in April 2021
He stated that the contractor already carried out the Environmental Impact Assessment and educating the communities along the project line, in the previous financial year.
Total East Africa Midstream B.V. (TEAM B.V.) is the custodian of the project. The President of Worldwide Exploration and Production alongside senior management of Total SA recently met with the Minister to give updates on the progress of the project.
During the meeting, the oil major reaffirmed its commitment to the project not just for the benefit of the company but for the countries involved.
Arnaud Breuillac, the Exploration and Production President said: "Whereas in the current global context many companies are cutting back on activities, at Total the EACOP project in Uganda and Tanzania is considered as a landmark to anticipate the rebound of the economy, building a major infrastructure corridor in this part of Africa."
Total also spoke to the Ministry of Energy on the need for several international tenders to reflect the new market conditions due to the global economic situations caused by the pandemic.
Earlier in June, Tullow awaited approval from the  Ugandan government to complete its deal , Total has informed the Ugandan government of the entire transfer of the Tullow Stake in the Lake Albert Oil Project.
Last week, Tullow also announced that the majority of its shareholders approve of the sale.
Total also discussed plans to fast track the agreements in Uganda and Tanzania to pave way for the FID and the project execution. Aside Total's 66.7% in the upstream stake and the Chinese National Offshore Oil Company's (CNOOC) 33.3% , the Uganda National Oil Company (UNOC) will also join the upstream for a 15% share.