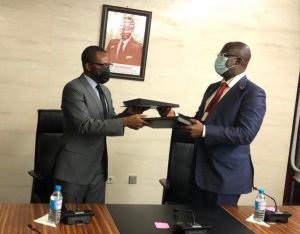 Officials of the Federal Ministry of Petroleum Resources, Nigeria, and the Ministry of Mines and Hydrocarbons of Equatorial Guinea, have signed a memorandum of understanding (MoU) to consolidate new opportunities of the hydrocarbon sector for both countries.
The officials met to discuss and expedite action on the supply of gas to Equatorial Guinea from Nigeria. Both Gabriel Obiang Lima, the Minister of Mines and Hydrocarbons, Equatorial Guinea, and Timipre Sylva, the Nigerian Minister of State for Petroleum Resources, said the joint cross-border supply cooperation will be an opportunity for Equatorial Guinea to add to its local content development plans of the energy sector.
Mr Sylva also met with Equatorial Guinea's Head of state, Obiang Nguema Mbasogo, who reassured the country's commitment to cooperating with OPEC by maintaining its production levels.
The meeting followed the appointment of the Nigerian Minister as a Special Envoy to some participating countries in the Declaration of Cooperation, by the Joint Ministerial Monitoring Committee (JMMC) of the Organisation of Petroleum Exporting Countries (OPEC).
He is to communicate the principles of fairness, transparency and equity in Gabon, Congo Brazzaville and South Sudan.