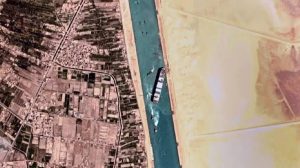 After the unblocking of the Suez Canal on Monday, 29th March 2021, several Liquefied Natural Gas (LNG) and other vessels are waiting for the canal to become fully operational.
According to Reuters, although about four hundred and fifty (450) cargo ships with different commodities are waiting to pass, the canal is not expected to be fully operational until some days or weeks from now.
The Suez Canal is the shortest shipping route between Europe and Asia. It has now reopened for navigation, almost a week after the 20,000 TEU containership "Ever Given" caused traffic by becoming jammed across a southern section of the canal.
It is estimated that a total of eighteen (18) LNG tankers will be late to their destinations, mostly in Asia.
BACKGROUND OF THE BLOCKAGE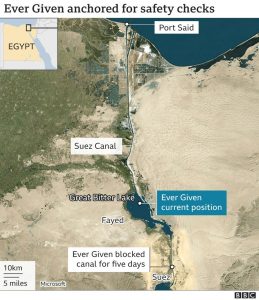 The Suez Canal became diagonally struck after running aground while entering the Suez Canal from the Red Sea. The ship is said to have completely blocked the canal, causing a traffic jam. The canal is home to as much as 12% of the world's seaborne trade.
According to data from Lloyd's List, the Suez Canal blockage has cost about 12% of global trade and was holding up trade valued at over $9 billion per day, which is equivalent to $400 million worth of trade per hour or $6.7 million per minute.
Data from Suez Canal Authority, which maintains and operates the waterway, said that since it was opened for navigation in 1869, the Canal has closed five times.
The maximum authorised number of vessels that can pass through the Canal per day are one-hundred-and-six (106) vessels, although the average daily traffic totals 40 to 50 ships. On August 2nd 2019, a record eighty-one (81) ships went through the canal.