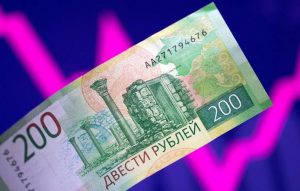 Four European companies have already paid for Russian gas in rubles, according to Bloomberg, citing a source close to Gazprom, while the Russian gas giant halted shipments to Poland and Bulgaria.
Deputy Prime Minister Alexander Novak said earlier this month that some of Russia's natural gas clients have agreed to pay in rubles for Russian gas, although he did not specify which customers had agreed.
According to a Bloomberg source on Wednesday, ten European companies have already opened accounts with Gazprombank, the Russian government's official bank for handling ruble-based payments for Russian gas.
Poland and Bulgaria stated late Tuesday that Gazprom had informed them that the Russian gas supply to the two nations would be shut off as of Wednesday. According to Gazprom, supplies were halted "due to the absence of payments in rubles," and on Wednesday, Gazprom acknowledged that the two countries' gas supplies had been cut off.
Bulgarian Energy Minister Alexander Nikolov also stated on Wednesday that the deal with Gazprom requires Bulgaria to pay in US dollars for Russian gas, and Russia's demand for payment in rubles is a breach of the contract.
"It is clear that in the current war in Ukraine, Russia uses natural gas as a political and economic weapon," adding that Bulgaria will not negotiate under pressure.