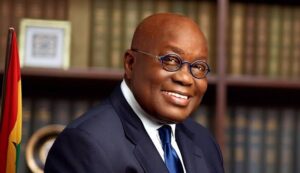 President Nana Addo Dankwa Akufo-Addo has emphasised on the need for more Ghanaians to actively participate in the development of the country's oil and gas resources.
This was reiterated during a visit from beneficiaries of the Accelerated Oil and Gas Capacity Building Programme to the President at the Jubilee House on Thursday, August 6th 2020.
The Accelerated Oil and Gas Capacity Building Programme is an initiative of the government of the Republic of Ghana, sponsored by Baker Huges. The programme is part of the government's efforts to improve local participation in the sector, and it is aimed at training Ghanaians with the required knowledge in the petroleum sector.
Also present was the Ghanaian Minister of Energy, John Peter Amewu. The President congratulated the beneficiaries and praised the commitment of the sponsors. He told the beneficiaries that the academic knowledge alone is not enough and stressed on the importance of putting what they have learnt to practice and to contribute their quota to the development of the sector, and the country.
He said the COVID-19 pandemic and its impact on the labour market should not cause the beneficiaries to lose focus or have doubts as their acquired skills and knowledge is still in high demand.
In the words of President Akufo-Addo, "The resources are here in our country and our responsibility is to make sure that we are the principal beneficiaries not just in terms of the exploitation but also in terms of the human resources that are responsible for developing it."
"You have to work hard and work with integrity, knowing that you have a lot of people who will be willing to see you succeed."
The Minister praised the President's willingness to improve local content in the petroleum sector. He said, "Mr President, this is just the beginning. We can assure you that your vision for the oil and gas sector will come to stay."
There have been remarkable impacts by locals in the petroleum sector but the development of Ghana's oil and gas resources is currently massively determined by foreign investors.