Fatherhood with Ibe
DOWN MEMORY LANE
Now, all thanks to God's mercy, my son Emeka has married his sweetheart in an occasion that was both serene and colourful. The wedding is over and now the real deal; the marriage, begins. We pray that they would enjoy a lifetime of blissful and fruitful union.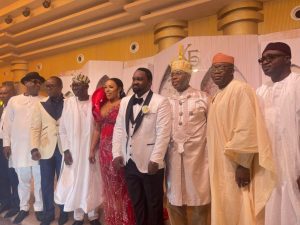 I still remember how anxious they were a few days before the wedding. Emeka looked as if he was carrying the weight of the whole world on his young shoulders. I needed to use my own experience to explain some of the hard decisions that go with the level of maturity they were getting into. They were sitting on a sofa across from where I sat and thankfully, they were holding hands.
I took a sip of water from a glass beside me and went down memory lane as I began the tale of my wedding many years ago.
"My dad was a very strict man and I owe a lot of my successes to his firmness on many issues. Two incidents stand out for me amongst many I had with Dad when he was alive … in fact, three incidents.
The first was when I got admitted into Harvard Law School Doctoral programme. I was one of only five students admitted that year. It was a big deal. My performance at the Masters programme had been one of the many deciding factors for the panel. I had applied with no knowledge of how I was to fund the studies. Like you children these days do, I had taken it for granted that my dad would help with the fees; which, come to think of it, was silly. Dad had 15 children, numerous extended family dependants and only a Federal Judge's salary to meet the consequent obligations. I should have known better. I guess I got carried away.
'Dad, I got admitted into Harvard's doctoral programme.' I announced on my long distance call from America.
'Really?' Dad sounded excited. 'That's fantastic! I didn't expect less though; you have always been a star academic performer."
'Thanks, Dad!' I felt happy and optimistic because praises from my dad were rare.
'So I assume you will be staying on in the USA for another two to three years.' He noted.
'Yes, Dad!' I replied, glad that he understood the assignment.
'That's good.  At 23, you are young and the world is at your feet.' Dad enthused.
'Thanks Dad.'
I was waiting uncomfortably to spill out the real reason I called and praying he would introduce the subject himself.
'Okay, you take care and keep us informed of your progress.' He was signing off. I couldn't delay any further.
'Just one thing, Dad: The fees need to be paid within the next two months.'
I heard a burst of sarcastic laughter from the other side of the phone.
'Ibe, I have nothing to do with that. You are a grown man and should fend for yourself. When I studied for my law degree in London I worked part time to foot the bill. I didn't ask your grandfather, a poor farmer, to foot the bill. Ambition and manhood demand strength and hard work. Go to work, my boy.'
The phone went silent and so did my elation and celebration. For two day, I felt sad and confused. But Harvard University and the then University of Ife, under Professor Sagay, came to my aid just in time with life-saving scholarships. The rest is history."
I saw my son and his fiancée shift uncomfortably on their seats.
"Wow!" Emeka exclaimed, letting out a breath. "What was the second incident that your Dad influenced?"
I smiled and took another sip of water.
"The second was at the time of planning my wedding to your mother. Dad had summoned me to understand the wedding plans. I detailed it as best as I could.
'That's very good and should be quite grand.' Dad said. 'I will speak to someone close to us to be your Chairman. I presume of course that you have done your budget and you have the funds to pay for this grand wedding?' He asked holding my stare. I felt uncomfortable.
'I have some of it, Sir but I am still quite short of funds.' I stammered.
Dad peeped though the upper rim of his overused medicated eye glasses and in a deep stern voice snapped:
'Young man, you are 27 or 28, remind me. If you don't have sufficient money, you have two options: either cut down the size of the event and it's opulence to fit your budget or you postpone this to a time when you have saved up enough to handle your first serious assignment as a man.'
I left the meeting confused, sad and even slightly resentful but later I appreciated his counsel."
"And what did you do?" Emeka asked again. I could see that I had his full attention.
"I cut down the opulence of the event to suit my pocket and it went well. In your case, you are lucky that I am here to help lift you up. That's the reason you two should focus on being happy, enjoying your day and being thankful to God." I concluded.
"What was the third event, Dad?" Kelechi, my daughter-in-law asked with the eagerness of a three year old listening to her parent's tales by the fireside.
I laughed. Everyone did. They were now relaxed.
"Not today," I responded. "Perhaps, another time; we have work to do."
My story seemed to be what they needed to help them relax and focus on each other and I am grateful that it all went well.
Much thanks to all the relatives, friends and well wishers that graced the wedding ceremony.
IMPORTANT BUSINESS MOVES TO MAKE BEFORE THE BIG 40 (Part 1)
Everyone dreams of a healthy old age where they can put up their feet and take trips to discover the world; one where there is no need for a 9-5 job to maintain their dream lifestyle. Even for entrepreneurs, there is a time to step back and handover the reins of the business to a younger captain. For people who live in bustling cities, like I do most of the time, it is turning off the internal and external alarm clock and slowing the pace. Ask the average person what he would like to do after retirement and he would, in all likelihood, talk about spending more time on hobbies that may not necessarily generate income, or taking extended overseas vacations; travelling to exotic places around the world, meeting new people and observing foreign culture. For some others, the joy of retirement is just bowing out of the rat race and focusing more on family and/or community service.
When people are younger, retirement is seen from a utopian point of view. The image of long extended vacations, breakfast by noon and all-night partying with friends are only possible for a select few. What typically happens to the majority is that they retire and begin to worry about their finances and then their health. These two heavy doses of anxiety paralyse their social lives, creating distance between them and friends, who incidentally, may also be grappling with their own problems. Loneliness then sets in and this further leads to deterioration of their health. A common image on television is of retirees; older men and women, carrying placards and looking totally disgruntled; this is not limited to civil servants alone, in fact the degradation is even worse for people who have no expectation of monthly pension.
This is not the image young people dream about when they consider retirement. Their expectation is more along the lines of that of my former neighbour and friend in the USA, boisterous Craig and his lovely wife, Meg. They had looked forward to their retirement for years and finally when they took the step, they threw a barbeque party and invited their friends to celebrate the landmark. Symbolically, the couple put all their time pieces on a table (I'm quite sure that they missed a certain pricey Rolex wristwatch belonging to Craig though). At the end of the party, they told the guests to pick any of the items as a memento of their work life. The next day they shut down their home and proceeded on a six-month cruise that took them to four continents. From their photographs, they sure lived the life, but then, they also worked and planned well for that life.
A good and proactive retirement plan covers health, finances and post-retirement occupation. The ideal plan is to retire when a person still has enough energy to take up a vocation that he/she is passionate about. As I said earlier, this vocation may not be profitable financially but it would keep the retiree active and also help him to maintain social and business interaction with people. At the base of all these plans is the need for a sound financial fallback position that helps the individual to go out and do what he loves without altering his standard of living completely. This stability can be achieved through deliberate decisions and actions taken at least 20 years before retirement.
Every working adult must, as a matter of necessity, spare a thought for those golden years when retirement is inevitable. I wish I could say that I am about to share some intellectually mind-blowing, deep secrets that they will not teach you in Harvard Business School, but they do teach these in Harvard and many reputable business schools; people just rarely implement the knowledge until they are two years away from retirement and their unsavoury financial situation stares them in the face. A strict savings culture, prudent investments, regular medical check-ups and disposal of habits that promote wastage are some of the key lifestyle routines that every individual needs to imbibe as a personal culture in order to enjoy a stress-free retirement. You can start as early as your first earnings; you don't have to wait until you are 40 years old. I know parents that started teaching their children the habit of saving and investing their money. For birthday presents, they bought them shares of thriving companies and encouraged them to increase the stocks over the years. Perhaps like me, you were not that privileged as a child; you could still start now to teach your own children.
To start on a right note, there are some habits that you must throw out; these are some financial postures and postulations that are inimical to the achievement of a financially comfortable retirement. The first is the very popular slogan: 'Living above your means.' This is a terrible financial habit that ultimately leads to accumulated debts. Financial institutions can help with this problem if it is difficult for you to personally control. The bank can establish a lien until the debts are paid off. However, the real therapy is a determination by the individual to curb the short-sighted instinct to buy on credit or borrow against non-existent collateral.
Another habit to drop quickly is the YOLO (You Only Live Once) mentality. Most people adopt this YOLO attitude just before they lavish money that could be put to better use for the future. Retirement age is part of your life so plan for it.
Thirdly, there is a reason you are not one of the Joneses so don't try to be like them. Carve out your own identity and lifestyle based on your proclivity, your financial ability and available time. Don't squander the funds that would give you peace of mind in the future on frivolities because you want to "feel among."
Next, drop that feeling of entitlement before it causes you serious heartbreak. So, your parents promised to bequeath their personal fortune and assets to you or maybe you work for a big company/agency and the usual practice is to pay out a huge terminal fee to staff that have worked for a certain number of years? Don't fold your hands idly or lavish your earnings because of such an expectation. Some people have faced huge disappointments due to downturn of the economy, government policies that changed things overnight or even natural disasters. Build your own legacy; any other inheritance or earnings can be an addition.
Lastly, even if you are quite knowledgeable, if you are not an expert in investment and financial matters, please consult professionals. Weigh your options carefully before you get into any project or investment.
Having sorted those, don't neglect your health. Regular medical checkups remain the best avenue to detect a health problem early and nip it at the bud.
So, now you have a savings culture, how do you invest the money to grow and keep growing so that it will see you through retirement and become your legacy for your offspring? We are talking about creating generational wealth here.
Let's survey this next week.