The Future of Africa without oil
This month, the International Energy Agency released its 2020 investment forecast. Not much surprises except for the fact that oil investments are on the decline. Prior to covid-19, a modest 2% to 4% increase in new investment was forecasted for the oil sector – both crude and refined. But with covid-19, the lockdowns, the economic meltdowns, the crumbling of the travel and hospitality industry, and the crash of oil prices to all-time lows, the investment forecast turned out much worse. It is projected that new investment in the oil sector will be down by a frightening 20%. This means that a lot of projected oil field developments, exploration and production, and even investments in refining will suffer.
As of Friday, dated 5th June, 2020, Brent price had improved from abysmally low sub $20 per barrel numbers to $42 per barrel, giving hope of a recovery. But with covid-19 enjoying a rampant run and an unpredictable tenure, it is certain that the sector will remain volatile and recovery will be sluggish. For African oil producers and potential new entrants into the oil production business, every logic here advises three principles:
Business common sense
Speed in planning for less dependence on oil, and finalising all energy related infrastructural investments.
Diversification to agriculture, low skill manufacturing and services.
The future of oil may be coming to an end faster than the twenty years historical predictions. This does not mean that oil will not continue to be relevant. For countries like Nigeria and Angola, with over 40 to 50 years identified reserves, oil will always be a contributor to each country's GDP, and a key provider of financing for development. But it's contribution to those two key economic indices will continue to shrink … and fast too. So common sense compels that serious focus on retooling the dependency basis of our African economy must begin.
We must trim down wastages in public spending. We must cut down graft and corruption. We must massively expand our public infrastructure base. Finally, we must return to market economic fundamentals and reduce the financial burden of subsidies. The recent announcements in Nigeria and South Africa that subsidy on petrol is giving way to market determined pricing is a step in the right direction. We began this process in late 2015 when I had the honour of serving as Minister of State and Group Managing Director for NNPC, and I am glad we have returned to that policy. Kudos everyone! Africa must begin to face the alarm bells of its oil sector and pull together cooperatively to explore and harvest its continental opportunities.
What is happening to the world?
On a troubling note, we are awash with the goings-on in America, Africa, Hong Kong and many parts of the world; senseless killings everywhere. If it is not the sad  incidents of blacks getting killed by white police officers in USA, it is fellow Africans killing one another on ethnically and religiously charged conflicts. Nigeria is not exempt. Everywhere in the world, everything is collapsing. There is a frightening foreboding of hatred and isolationism. That's why the unity video which we've posted today struck a note in me.
The world needs to STOP AND INHALE, then we all need to EXHALE all internalized bigotry and hatred. We must realize that God created the world without our man-imposed boundaries and differences. Unless we all come together and begin to see ourselves as one and live in love and harmony, this WORLD will implode on us all.
I hate to think of a future without earth as we know it, but man can potentially self-destruct what God laboured so hard to create. The time for change is NOW, and the agent of that change is US. It is a COLLECTIVE effort. So long.
My Recommended reading this week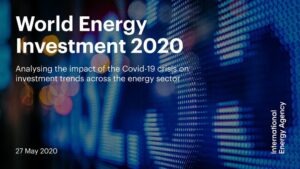 "World Energy Investment 2020" a report by the International Energy Agency
Download the report from the IEA website
What I'm Listening to 
This week's music pick is 'Heal The World' by the late Michael Jackson
Click here to listen