The International Energy Agency has recently released the fifth edition of its annual World Energy Investment report, where it looks at the effect of the COVID-19 pandemic and its impact on the global economy, especially the energy industry. It also examines the pre-crisis expectations of modest growth that have turned into what it calls "the largest fall in global energy investment." 
The report highlights the lockdowns, fall in oil prices, and the recent cut in production as reasons for the reduced activity in the oil sector.
It compares the Power and Oil sections of the Energy sector, weighing the highs and lows of both industries. It notes the steady progress achieved in the Power sector compared to the occasional 'rise and fall' in the oil and gas sector. It also determines that the oil and gas sector has been hit hardest by the pandemic, and highlights fears of the pandemic breaking the resilience of the power sector, as it notes that the crisis has affected the entire energy sector.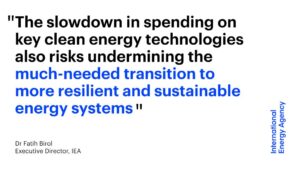 "Investment in fuel supply has fluctuated markedly over the last decade, with typical cyclical elements common to all commodities overlaid with growing structural pressures to reduce emissions and switch to cleaner technologies. By contrast, investment in the electricity sector has been more stable, buoyed by its central place in economic development and energy transition strategies, and by growth in electricity demand that has consistently outpaced overall energy demand. For the fifth year in a row, investment in power is set to exceed that in oil and gas supply."
The report also predicts that in the first few years post-COVID-19, there might be an instability in the demand and supply of the market. It further looks at how private and government companies in some countries can work together to speed up the recovery of their economies.
"The Covid-19 pandemic has brought with it a major fall in demand, with high uncertainty over how long it will last. Under these circumstances, with overcapacity in many markets, a cut in new investment becomes a natural and even a necessary market response."
To read the full report and the charts, click here