In a statement to the Tadawul Stock Exchange, where the Company shares trade, the world's largest oil-exporting company, Saudi Aramco, has reported a 44% slide in net profit for 2020 of 183.76 billion Saudi riyals ($49 billion) due to "the impact of lower crude oil prices and volumes sold, and weakened refining and chemicals margins" caused by the COVID-19 pandemic.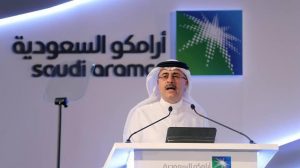 The Company's revenue dropped by 30% to 768.11 billion riyals, while $49 billion in free cash flow was generated.
Aramco's hydrocarbon production for 2020 was 12.4 million barrels of oil per day, with crude accounting for 9.2 million barrels per day. It produced 12.1 million barrels per day in April 2020, its highest production level before the OPEC+ supply cut agreement was reached. Gas production from conventional and unconventional fields increased to 10.7 billion standard cubic feet per day in August 2020.
Aramco also acquired 70% of Sabic, the region's biggest chemicals company, in June 2020, and is undertaking a reorganisation of its downstream sector.
The Company noted that it reached an upstream carbon intensity of 10.5 kilograms of carbon dioxide per barrel of oil equivalent in 2020, which was one of the lowest footprints in the industry.
Commenting, the President and Chief Executive Officer, Amin Nasser, said: "As the enormous impact of Covid-19 was felt throughout the global economy, we intensified our strong emphasis on capital and operational efficiencies."
"As a result, our financial position remained robust and we declared a dividend of $75bn for 2020."
"[The company is bullish about] a pick-up in demand in Asia and positive signs elsewhere."
"We remain confident that we will emerge on the other side of this pandemic in a position of strength."
Aramco expects capital expenditure for 2021 to be about $35 billion, which is at least $5 billion lower than its previous guidance of $40 billion to $45 billion.