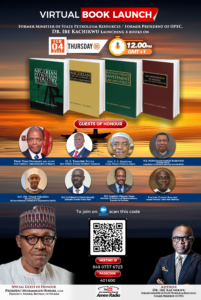 One of the common sayings of my people is that when a man dances in an empty square, there are people beating the drums somewhere. This is true of the books we will be presenting on Thursday, February 4, 2021. I will tell you about my teachers and family much later, from whom we naturally expect support, but never take for granted. For now, let me begin by mentioning those who owed me absolutely nothing, but have given me so much and have contributed in no small measure, to these new books that will be presented on Thursday.
First, Mr. President. President Muhammadu Buhari gave me the opportunity to serve at a top-level public policy position for the first time. I acknowledge that it must have been a leap of faith and blind trust in one's ability to deliver. Initially, I wasn't sure what informed his conviction as we had never previously met, neither had we related in any way before our first meeting, which was arranged by a mentor of mine on whom must rest the major glory of my selection and sojourn into public service.
I would later discover that there were also three other serious influencers – friends of the President who believed I was an excellent fit for the 'technocrat' profile President Buhari required to complete the Petroleum Ministry portfolio. Out of respect for their privacy, I will not pull these guardians out of their preferred anonymity by mentioning their names. Let's just say that without them I may not have had the opportunity to serve. The President must however be honoured for believing not only in my capacity and experience, but also in my dreams and burning desire to contribute to realizing his change agenda for the Nigerian petroleum ministry.
I was not a politician when I was asked to serve and had not been involved in the arduous and exhaustive campaign process with all its excitement, rough spots and jostles for power. I had it easy. I realized later during the 2019 Campaigns not only how taxing the electioneering and political process is on political combatants, but also why after an election, the jostle for positions is so intense. Here's just one comic example to bring home this point: Political aspirants are like gladiators – prize fighters who can fight relentlessly one moment, and then be whimsically jocular the next, even though their focus never strays from their ultimate goal, which is obviously to win. I saw this physically demonstrated during the 2019 campaigns, as I watched with absolute shock, well-respected leaders fight at the party convention about which faction should represent my state! In the twinkling of an eye, these well-known figures were pelting each other with blows, while using conference chairs as ferocious missiles.
Two things surprised me immensely: first, all this was happening just yards away from the party leaders who maintained their calm. And secondly, in a matter of mere minutes, the fight was over – a few back slaps were exchanged, accompanied by pseudo-smiles on the combatants' faces. Whilst those who survived took their seats, the vanquished left the arena to fight another day. As I gathered, this was just another typical day in politics and meant nothing to veterans.
With this picture in mind, you can then better appreciate the magnitude of the President's decision to select a technocrat like me for the prime (and contentious) role of Petroleum Minister of State, along with the combined responsibility of being Group Managing Director of the NNPC. As an amateur politician, the guidance I received from Mr. President for the review and eventual development of petroleum policies was invaluable. I also learned to apply his measured calm during the most turbulent periods of my service. The materials for the books on Petroleum and Gas were the products of policies developed and reviewed with Mr. President and in many cases with the Federal Executive Council. Where I originated ideas, Mr. President fine-tuned and decided. And where Mr. President developed  ideas, I framed and formatted them for his approval. There was always only one boss in the room.
I have learned so much and my hope is that the knowledge I have garnered and summarized in these books will be profitable to the industry at large. It is however worthy of mention that these are purely technical books, not compendiums of political experience. Regarding the latter, there are people much more experienced than I am, and so the books on sophisticated political navigation should be left for them. Nigerian political education takes a thousand years of the most unusual schooling, and no one quite finishes that education in his lifetime.
The crafting and development of new policies on the other hand, is tedious and painstaking work involving several layers of review and refinement before approval. The clearing house for some of these policies was the Economic Council chaired by the Vice President, Professor Yemi Osibanjo, SAN. We fondly called him the Wise Pastor and for good reason; he has an enviable penchant of drilling down complicated policy ideas to their bottom-line elements, ensuring that resulting policy proposals are at their best before being presented to the Federal Executive Council.
While I was Petroleum Minister, the Economic Council's and the Vice President's support were incalculable in ensuring we presented better policy packages. Also, I particularly remember the effectual agency of the VP, the Senate President and the Speaker of the House of Reps during the fuel subsidy price and policy changes of 2017.
Now the story train moves on to Alhaji Sanusi Barkindo, the Secretary General of OPEC. We met by faith and happenstance. When the position of the OPEC SG became vacant, I was charged while in office by Mr. President to work with the Petroleum Ministry's Permanent Secretary at the time, Dr. Jamila Shu'ara and the OPEC Governor at the time, Dr Omar Farouk to find the best Nigerian candidate. We shortlisted three people, and eventually recommended Alhaji Sanusi Barkindo. The President approved his nomination and I proceeded to present his candidacy amongst OPEC Member Nations. He was eminently qualified and had a progressively outstanding career. He was voted in as the Secretary General. His office became extremely crucial to the many OPEC reforms that Nigeria was to champion, and in the many negotiations for OPEC production quota that Nigeria was to face. That collaboration runs into some of the policy plans that we have suggested within the books.
I would be remiss not to mention the many brilliant foot soldiers who made these books possible. The contributors to the Petroleum book were my technical leads in the co-authored chapters on policy development. I refer here to Dr. Tim Okon, Mr Gbite Adeniji, Alhaji Rabiu Suleiman, Mr. Awoyemi Johnson and Dr. Omar Farouk. These great intellectuals and policy wonks were part of the inner policy war room that I assembled to work with me. Our debates were animating and our engagements consuming. These were non-hierarchical debate sessions where the best arguments won, and policies were developed in line with the conclusions. The fact that these great brains could co-contribute to the Petroleum book says a lot for how we worked. I remain very grateful to them all for making sure we pushed the envelopes on each policy item we debated.
To provide a bit of background, I was privileged to serve three terms as President of African Petroleum Producers' Organisation APPO – the policy council of African Petroleum Ministers charged with the responsibility of establishing policy direction for the African petroleum industry. We embarked on a massive reorganization of that body during my time and the forerunner for that work with me was the successor to Dr Jamila Shu'ara as the Ministry's Permanent Secretary (now the current Head of service) Dr Folashade Yemi-Esan, and Dr Omar Farouk. It is fitting that today, Dr Farouk has become the SG of APPO. The Minister of Mines and Hydrocarbons Equatorial Guinea, Mr Gabriel Obiang Lima worked closely with us and provided massive support for the APPO restructuring program. I therefore need not say more about why both Dr Farouk and Mr. Obiang are major content structures with regard to the materials for some of these books.
I also want to thank our consummate Nigerian leader General T.Y. Danjuma, my brother, mentor and advisor, Pastor Tunde Bakare and Chief Emmanuel Ojei – my uncle and renowned business mogul. Without them, this exposure, this public sector career and these books may not have been possible. These God-sent mentors of mine of whom much will be said in future works, helped selflessly propel me to national service and provided the daily guidance that was essential to understanding and navigating the political and public terrain.
I must also thank a number of young, brilliant and dynamic individuals who make up my core research team. They have worked with me on about ten books and continue to raise the bar. Mojisola Olugbemi, Ayobamidele Akande, Emmanuel Ohiri, and Kolawole Olanipekun, thank you.
Finally, and saved for last, I am indebted to my wonderful immediate and extended family and my very close friends for their love, support and tolerance.
So you see, like I said at the beginning, the dancer in a market square dances to the precision of drumbeats rendered sometimes by hidden drummers.
So long…tomorrow we shall discuss the books and their focus.