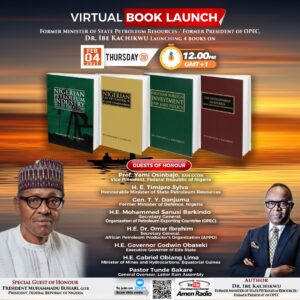 The four books to be presented on Thursday, 4th February 2021 are not my first. I have authored many other books on law and soft publications including novels and poems. I am thankful for God's gift and for the fervency of my desire to keep writing.
I am asked, "How did it start?": I am not sure. I can't say I was gifted like the Chinua Achebes or the Wole Soyinkas or the Professor Nwabuezes. I use the plural to these names to recognize the millions like me they have mentored, influenced and motivated. Reading from such great gifted writers helped sow the seeds of writing in me.
I think one of the early influences to my literary moonlighting was my dad, the late Chief Justice Francis Kachikwu. He was not a writer as such, although he penned many landmark judicial decisions. Dad was a disciplinarian like many other judges are. So whilst I was in the university studying law, I was deprived of the modern-day fun available to many undergraduates. No parties, no visits, no visitors, no frivolities. In those days, online entertainment, mobile phones and cable entertainment were not available. So to kill time and be useful to myself, I began to write. My first draft novel 'Peace at last' detailing my childhood experiences, was written when I was 15, 'Cocaine connection' came some years after.
In the university, during my undergraduate studies, I formed a drama house 'Kamaka on Broadway' and began writing many of the plays and drama scripts that I was then to take on the road and dramatize all over universities and schools. Of course, it was not for charity. I wrote for fun and financial returns. The resources gathered from those activities helped to sustain me in school.
In the USA while doing my Masters and Doctoral work, I began writing for soft magazines in London: The likes of 'True Confessions', 'Love Tits' and 'Mills and Boom'. The money from that was helpful in my day-to-day finances although I was lucky to be on multiple scholarships.
Upon my return to Nigeria and whilst working as a law manager in a major oil company, I floated Hints Magazine in 1989, scripted most of the columns and stories, and helped train some of the best minds and hands in romance journalism, Kayode Ajala, Chidinma Agwu, Tony Kahn, Amaka Obiofuma, just to mention a few. Hints Magazine and its sister publications, Complete Fashion, Thrills and Boom, Hello International etc, did not take long to become household names. They did make some good money and at their peak, provided employment opportunities for over 100 Nigerians.
With time, that voice and the music attracts a worshipping audience and the creations become musical Musings on Marble.
On the serious lane, I began law writing and together with my bosom friend, Chief Mike Ozekhome, we produced Legal Nutshell series: Nigerian Company Law and Practice and Nigerian Law of Contract. I also wrote my first successful law book; Nigerian Foreign Investment Law and Policy. I have continued in that line, doing over 10 books on law and policy over the years. My dad's impetus first planted the seeds, the mentoring of great writers and a hidden entrepreneurial urge, helped propel me to use God's gift.
Over the years, I have come to see that the crafting of literary verbiage confers a poetic satisfaction that is difficult to control. You too can write. A mentoring professor of mine, and author of over 20 books, once counselled me on my literary fright. "Get over it, Ibe. Everyone who can converse can write. Some may just write better than others but like old wine, we all get better with time and practice" he said. It is true. Everyone writes in his unique way. Like music and musicians, be they classical, rap, soul, opera or jazz artistes, the voices and delivery may be different but the artistes all deliver music. With time, an artiste and his music attract a worshipping audience and the creations become musical Musings on Marble.
Tomorrow we shall discuss the dignitaries of the launch and the roles they played in making the coming books possible.
So long.