Despite the conflict between Russia and Ukraine, last week, the Saudi Press Agency reported that Saudi Arabia's Crown Prince Mohammed bin Salman (MbS) reaffirmed his country's "commitment to the 'OPEC+' agreement" this week, working alongside the agreement's other main partner, Russia. He made this known during a conversation with the President of France, Emmanuel Macron.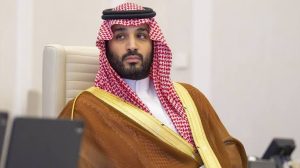 MbS explained the reaffirmation of his country's partnership with Russia in terms of "the kingdom's keenness on oil market stability and balance." OPEC+ announced earlier this month that the continuous moderate gain in collective output of 400,000 barrels per day (bpd) recorded in recent months will continue, notwithstanding the current high oil and gas prices in many countries.
MbS's remark emphasised Saudi Arabia's broad strategic political and economic move away from the United States' sphere of influence and toward China and Russia since the end of the 2014-2016 Oil Price War. The oil price war caused the shift in geopolitical alliances.
SAUDI ARABIA and RUSSIA
Following the oil price war, Russia's President, Vladimir Putin, invited Saudi Arabia's King, Salman bin Abdulaziz al-Saud, to Moscow in October 2017. It was the first time a reigning Saudi monarch had visited Russia. It was also the largest foreign delegation ever to visit Moscow, and King Salman's participation, considering that he rarely makes such trips, demonstrated how important Saudi Arabia's relationship with Russia was at the time.
Specific deals in the energy sector were agreed upon at the meeting. At the time, Russia's Energy Minister, Alexander Novak, said that Russian gas company Novatek was in talks with Saudi investors about participating in its Arctic LNG-2 project, which is a follow-up to its $27 billion Yamal peninsula plant. Rosneft and Gazprom, two Russian state-owned hydrocarbons companies, have also begun talks with Saudi Arabia's Aramco to undertake coordinated oil and gas trading activities as well as construct a combined research and technology centre.