What I'm Listening to…
This week's music pick is by YANNI – "Love is all" – Truth is Forever
You can listen to it here
My Recommended reading this week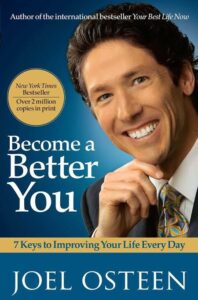 Become a Better You: '7 Keys to Improving Your Life Every Day', by Joel Osteen
"No matter where you are in life, you can better." This quote gives a good summary of the book. What you will find in it are actionable steps that will help you discover your individual purpose.
Download the E-copy here
My message of Hope
The Simplicity of Existence
It is amazing how we all start life by pursuing things that our earthly brethren use as indices for measuring our SUCCESS! We chase after wealth, fame, power, acceptance, and materialism. We devote all we have to seek these in the belief that they beget happiness. No doubt, a poverty-stricken life, just like a life with no ambition, cannot be the best measurement of success. But slavish adherence to materialism and power perpetually makes us the object of envy, hate, demand, leading to lives filled with stress and discontent.
This week, step back and look at some things that are easy and free and yet mark out a successful and fulfilled life. Things like love, family, character, piety, good health, friendship, and community. These attributes are limitless. As we watch the world race by, with the uncertainties of man's continued existence on earth and the survival of earth itself teetering, let us begin now to focus on and enjoy the simple things of life that God has provided. Let's cherish the moments of togetherness that we experience with people we love. Let us bend over backwards to provide our shoulders for others to lean on.
Life finishes so fleetingly. Every moment of goodness counts. I had a close friend Uche, a blessed soul in every respect. He was an epitome of bubbly life, full of energy, and ready to take on each day with enthusiasm. One night in March, we were chatting on phone planning for the coming week. The next morning, he slumped and died. No notice. Complete shock. As we make plans for his funeral on the 13th of next month, I am tearfully reminded that time on earth is fleeting. Be remembered for the legacy you leave. So long…